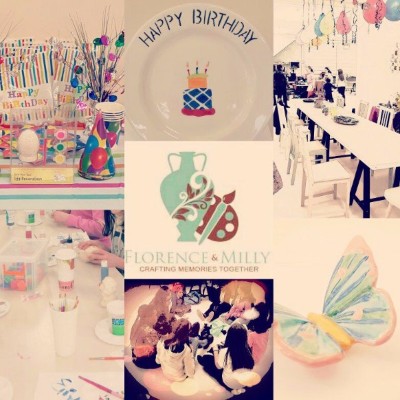 Birthday parties
We all know that children love to paint and get messy, so why not have a painting party here at Florence & Milly? From Birthdays, Holy Communions, Confirmations and Christenings. The following are our party options but we are happy to tailor a party to suit you so please contact us and we can discuss your individual requirements. We ask that there are two adults present for each party. Feel free to bring along party food/drink, or contact us to order in food from local businesses.
Party Options:
We have several different options available starting from €13 per child. Party Prices Include all materials, including unpainted pottery, non-toxic paints, decorative products & tools.
The children's party package includes:
A birthday Invitation template which is free to download and print
A full 2 hours of activity (including half an hour in play area with some party games)
1 item per child (see options below)
Birthday child receives a unique birthday plate marking the occasion (Pottery Painting option only).
Unlimited jugs of juice and a complimentary tea or coffee for the birthday parents. Coffee Bar available for additional guests.
Price from only €13 per child.
Option 1 – Pottery Painting €13 per child (Weds-Thurs) €15 (Fri – Sat/Sun)
Puppies, ducks, cats, zoo animals, skulls and more.
Option 2 – Detailed Pottery €18 per child (Weds - Thurs) €20 (Fri – Sat/Sun)
These figures and money banks require a little more attention, such as: princess mirror, money banks, mosaic fish, animal plates, butterfly and more.
Other Options – FROM €13 per child (Weds - Thurs) €15 (Fri – Sat/Sun)
Decoupage €15pp, Clay €13pp, Design a t-shirt €15pp, pamper parties €18pp (make shower jellies etc.), Paint a Dollhouse or Birdhouse €18pp, Canvas Art Party €13pp… and much more just ask.
Day: Wednesday & Friday @ 11 – 18.00 (2hr slots)
Thursday @ 11 – 19.00 (2hr slots)
Saturday@ 09.45-11.45, 12.00-14.00, 15.00–17.00 (2hr slots)
Cost: FROM €13 per child (Weds - Thurs) €15 (Fri – Sat/Sun)
Please note -A minimum of 5 children is required for all parties

For more details, please contact Laura on 045 838675 or laura@florenceandmilly.com
Download Party invite to print out your own invitations
Here is our standard invite, ready for download and printing. (prints 2 per A4 page)